At Tech Receptives, we excel at understanding business in different cultural settings. We also understand that not all business are same and requires a lot of  in-depth study about both the market and their customer base which in turn provides the product returns.
Delivery requirements of our customers are different and diverse. To serve customers from different demographics, regions and origin, we provide different delivery models. Complexities including different business model and technical expertise help us classify different delivery models for diversified needs and expectations.
Our delivery modules are channelized accordingly to our technical expertise and development methodology such that the synchronization is automatic and returns are high. The main philosophical goal at Tech Receptives is to provide a seamless, integrated delivery model that matches with the stakeholder's requirement and development methodology.
Onsite Delivery Model
Delivering in a continuous process, and we understand the notion of Onsite Delivery through continuous interaction.
Delivering a complex project, can be intimidating as it bears the gift of complexity. That's why, at Tech Receptives, we offer Onsite delivery that takes care of all the intricacies required to pull off the job with our skilled team. The whole process starts from the inception of the project to the completion.
To overcome the complexities of the Onsite delivery, our team delivers on the similar path of the client's philosophy and working standards, exceeding the client's expectation.
Read More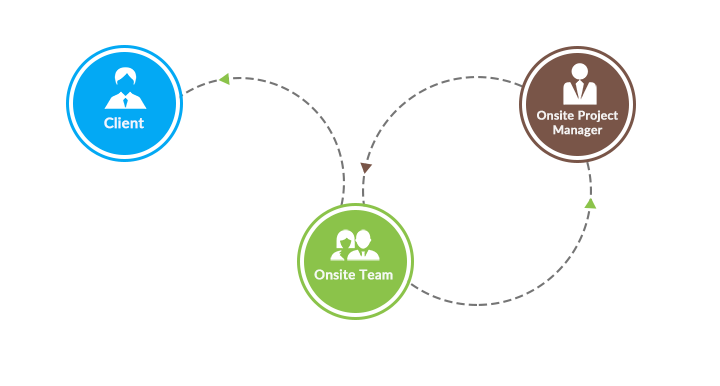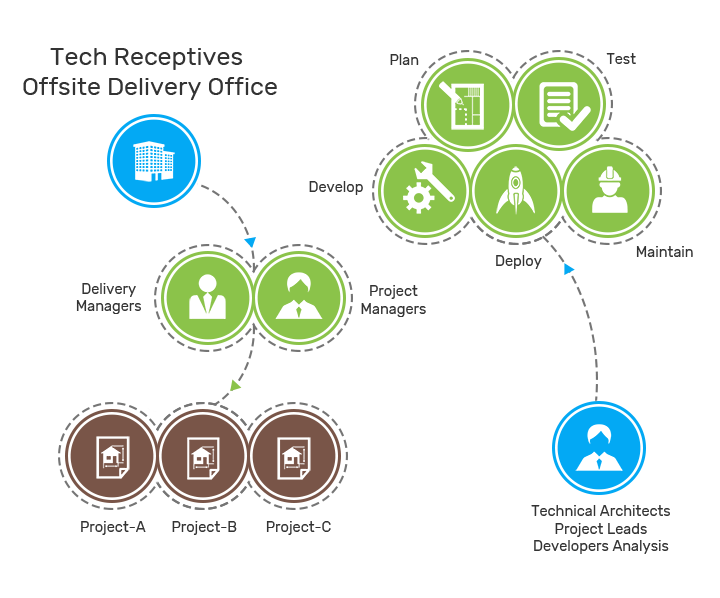 Offsite Delivery Model
Creating value from proximity is one of the best delivery models in the current Industry. Tech Receptives believes in providing the right solution through Offsite delivery model that takes care of all the problems from vicinity. 
Our team creates local presence and provides constant support to your local needs. Benefits of Offsite Delivery Model are faster communication with clarity.
The uncertainty principle works in tandem with the offline Delivery Model. The reason implementing this delivery model is random requirement changes done to absorb market research. Tech Receptives completely understands market complexities and delivers their best support through Offsite Delivery Model.
Read More
Offshore Delivery Model
Working on an International Project is not an easy task. We, at Tech Receptives, make every effort to work for a better relationship without foreign clients. Our expert team uses the latest technological research and skills to solve issues on different platforms without any difficulty. The OffShore Delivery module takes care of all the minute detail and challenges that create value for our OffShore Clients.
The whole process starts with the OffShore leader and Client Manger, making a complete analysis of the project, including the requirement, development and maintenance part. Once, the base is developed, we train and deploy our OffShore team to take care of the OffShore process.
Read More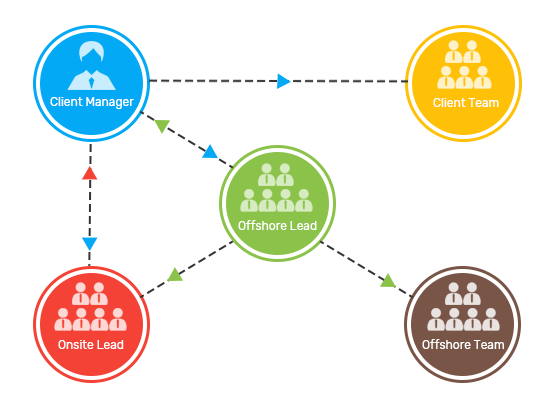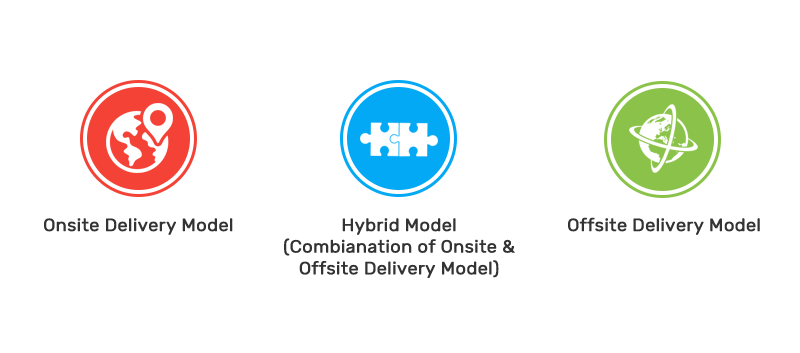 Hybrid Delivery Model
Not all businesses are same and at Tech Receptives, we understand the fact from the core. The inception of Hybrid Delivery Model enables clients to avail the benefits of both Onsite and OffSite Delivery Model. Cost benefits and delivery time are also enhanced in the Hybrid Delivery Model.
The luxury of using Hybrid Delivery Model is to provide both internal assessments and controlling the external environment to gain access to hidden resources which can further be analyzed to gain powerful insight and more time to understand market dynamics. Evident benefits of using Hybrid Model are decrease in the communication gap, 24/7 productivity and a complete control over the project internals.
Read More
Offsite/Offshore Delivery Model
Creating value through Offsite/OffShore Delivery model is one of the brightest aspects of Tech Receptives. The Offsite/Offshore Model works great for clients looking to outsource their work to OffShore team. The Offsite acts as a mediator, between the acting base and the OffShore team providing valuable inputs to the success of the project.
Benefits of using Offsite/Offshore Delivery Model are increased productivity with a clear vision and planning to go ahead. The distribution of the work also enables teams to work efficiently without work burnout. Another important benefit of using the model is 24/7 working, bringing more opportunity to the client's project.
Read More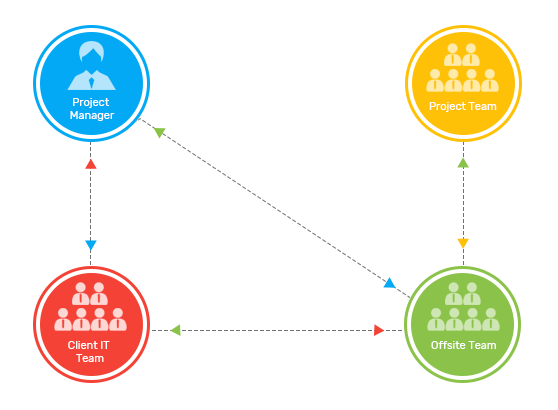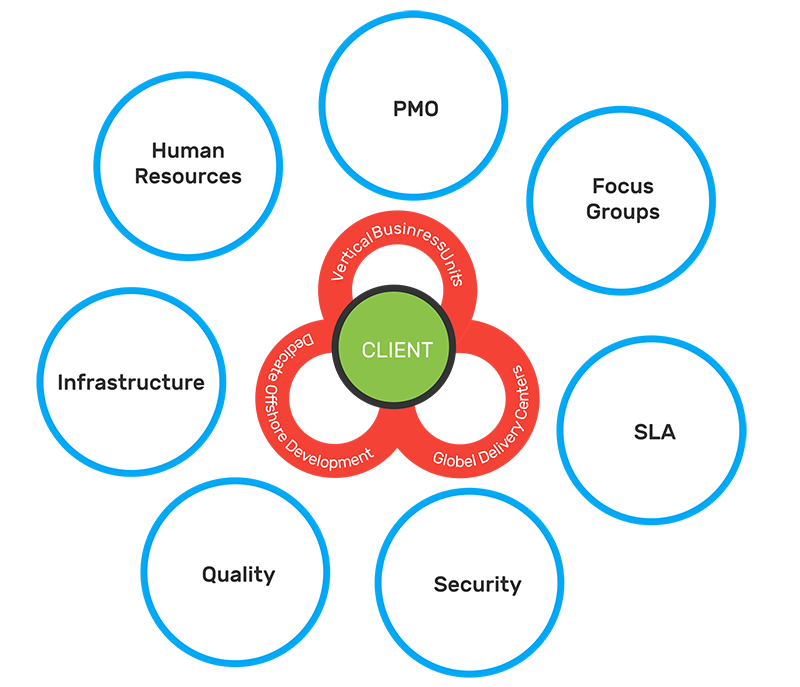 Global Delivery Model
To gain an unparalleled competitive edge, business are going global. Tech Receptives helps organizations to achieve globalization with the Global Delivery Model. Our Technical know-how enables large scale implementation of any process inducing benefits from all over the world. Outsourcing work becomes easier with Tech Receptives handling your global needs.
To gain worldwide traction, Our Global Delivery Model is best suited as it clings on every single opportunity that races towards us. With complete know-how and technical expertise, we bring more value to the organization.
Read More