Distance is no barrier at Tech Receptives.
Working on an International Project is not an easy task. We, at Tech Receptives, make every effort to work for a better relationship without foreign clients. Our expert team uses the latest technological research and skills to solve issues on different platforms without any difficulty. The OffShore Delivery module takes care of all the minute detail and challenges that create value for our OffShore Clients.
The whole process starts with the OffShore leader and Client Manger, making a complete analysis of the project, including the requirement, development and maintenance part. Once, the base is developed, we train and deploy our OffShore team to take care of the OffShore process.
The key to success is to understand the scope of the work correctly and execute it with utmost perfection. Our team also specializes in critical missions and take extra care in the execution of the project.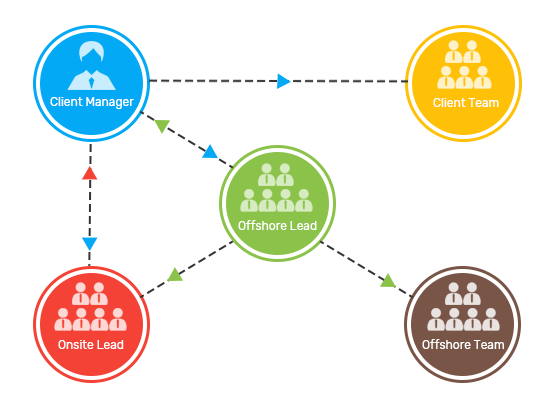 Our main team at Ahmedabad, India, acts as the control center for executing and commanding the main resources optimally and cleverly for reduced cost and low execution time. We also bring more value to the customer by providing free counseling and resolving conflicts that arise during the project period, without charging a single penny from our clients. We excel at communication and bringing value to the customer.
Off Shore Delivery Model is best suited for a series of critical missions, which in turn brings cost-effective solutions to the whole infrastructure.
We create value for the customer by acting as an additional team for the client and providing services with the commitments of the highest level. Our presence in the Global market also speaks volume regarding OffShore Delivery Model and its effectiveness in completing projects worldwide.
We always keep our clients' business interest at top-priority, providing them solutions that are not only cost-effective, but also of high quality. Our approach is to minimize the risk and maximize returns for our OffShore clients.
At TechReceptive, we understand the value of time and the how Global time zone effect business. Now-a-days, any business needs to remain open for 24/7 hours so that they do not lose any potential client because of different time-zone. That's why we provide 24/7 hour service for our clients with the option of a flexible schedule to harness the time-zone of a particular demographic.
Working with Tech Receptives enables you to get hold of our database that is full of clients working on multi-level projects that bring more value to you? Contact us for more information at info@techreceptives.com